Everyone's got a different opinion on when and why The Office went bad. For many people, it's when Steve Carrell left.  Some say it happened in the last season or the second to last. For others, the show peaked as early as Season 4. It's a tale as old as television: all shows have an expiration date, and not all of them know when to call it quits.
Most of us can name at least one show we've soured on after one too many seasons of continually declining quality. As examples we'll name Community, or The Simpsons, or The West Wing. And we'll attribute all sorts of different reasons for this decline: the departure from the show by a lead actor or key producer, or being bumped from network to network and forced into unfortunate time slots, or maybe just a general drying up of creativity on the part of the writers.
I'm going to offer up a different theory here on what can turn a television show from good to bad. It concerns what in fancy TV-theory terms is called the "narrative problematic," and The Office is perhaps one of the most perfect examples of narrative problematic gone wrong.
Jeremy Butler, a professor at the University of Alabama, defined the narrative problematic as the "narrative kernel that recurs every week…the program must ask the same question again and again to maintain consistency and viewer interest" (Television: Critical Methods and Applications, 37). In essence: it's what the show is really about, what's happening throughout the most overarching storyline. The show Parks and Recreation—in many ways the offspring of The Office—was about the wacky band of misfits populating the Parks and Recreation department of a small Midwestern town, yes. But I would argue that what it was really about was an ambitious and passionate woman who fights to make a name for herself and her town, struggling against political rivals, economic crises, and her own work/life balance. And we can view this as the overarching plot of the show, steadily developing throughout the seasons: she moves from achieving small-scale bureaucratic goals, like building a park or organizing a successful Harvest Festival, to running for office, to considering what would happen if she left all of it behind for a high-powered job in federal government. The end of the show answers the basic narrative problematic of "will Leslie achieve her career goals?" with a "most of them, but not all." And that's it—there's no more story to tell. It's finished, and the show ended after a satisfying seven seasons.
So, back to The Office: why, and when, did it go bad? First, I think we should ask what its narrative problematic was.
I don't think it was Jim and Pam's relationship, although that's obviously one the show's more prevalent arcs. The "will they or won't they" arc can last ages (see Friends) but it simply isn't interesting enough to be the single problematic the show is based on. The Jim/Pam storyline comes up a lot throughout the first four seasons (before they officially get together, and then it mostly leaves the series' focus) but it's not the blood that pumps through the veins of The Office. 
No, I think what The Office was "really about" has to do with the fact that it takes place in a paper company.
It's not just that Dunder Mifflin is a supremely boring place to work, although that it is. If they just wanted to go for boring, they could have made it a company that sells desk chairs or microwaves or what have you. But Dunder Mifflin is a company—and not exactly an industry giant—that sells a product that with each passing year the world needs less and less of.
So, there you have it: The Office is about a company whose employees know that their jobs are in constant jeopardy. Each day they balance complete apathy for the work they do with a lingering fear that they may be terminated at any point.
Now, to say that that's a question that popped up in every episode would be a stretch. Mostly, it's about a moronic boss and the drama that ensues from the frequent coupling and uncoupling of his subordinates.
But is it, really? Certainly for the first few seasons it is—and this I would argue is a result of the influence of its British parent, the Ricky Gervais-led show of the same name. But as the seasons pass Michael becomes steadily more mature and less antagonistic, increasingly loved and respected by his employees. What remains, however, is that same lingering question: will the company survive?
In the first two seasons, rumors of downsizing lead to alliances and infighting within the employees. The third season is permeated by competition between branches and one eventually closing down. In the fourth season, Ryan attempts to revamp the company's image in order to bring it into the digital age and fails horribly. In Season Five, Michael starts his own paper business and experiences the pitfalls of starting a new company in a declining market, while news of more branches closing continues to circulate. In Season Six, the company goes bankrupt and is bought out by Sabre, a printer company.
And there's the answer to our narrative problematic. Will the company survive? No, it won't. Like so many others it runs out of money and… well,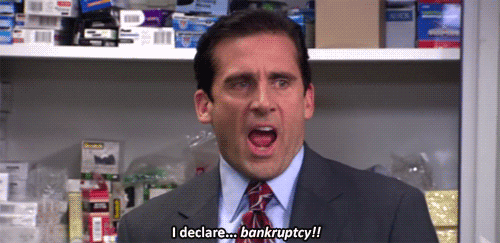 And that's it. That's where, I think, the story should end: Season Six, when the company is bought by Sabre. That was the end of the story. The subsequent seasons have always felt sort of empty to me: it's still funny for a good season or so before Carrell's departure, but there's nothing really driving it anymore. The jobs of the Dunder Mifflin employees are safe, and there's no reason, really, to keep following this group of people. Even Jim and Pam's storyline, the other most prominent arc, is basically over: they got together, now they have a kid yay.
Sure, they found directions for the story to go: Jim and Pam eventually start to have relationship issues, and Angela and Dwight have their whole thing, and Michael finally gets back with Holly. But if the showrunners planned to end the show with Season Six they could very well have concluded those storylines—especially Dwight/Angela, because man did that one start to drag—without much trouble.
Without a narrative problematic, The Office got lost, confused. It suddenly had nothing to rely on except its quirky characters, which is why Andy suddenly gets a lot more to do, and why after Michael leaves a rotation of increasingly crazy and unfunny bosses (Will Ferrell, James Spader, Catherine Tate) come in and do increasingly crazy and unfunny things.
Most people dislike what the show became after Carrell left, but let's be honest with ourselves: it was already changing. The seventh season feels somehow stale. It's not like the writing was any worse—though that did happen eventually—it's just that it shouldn't exist. And I think it kind of knows it.